Does being right make you happy?
Does being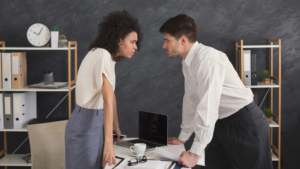 right bring you more success?
When I was a teenager, I thought I had to be right to be happy. Okay, I confess. It was something I believed until I was 45.
When contemplating the need to be right,  you might believe that you would never sacrifice happiness to be right. It was the same thing I thought until I understood the nuances of the statement.
After all, you are supposed to fight for your beliefs. Right? You are supposed to voice your opinion, make others live the life you know will benefit them, and be secure in knowing that you were right.
But does that make you happy?
When I was young, I was rebellious and headstrong. I fought against others when I believed they should live my morals and values. If I convinced other people that my way was the best way then I would be, and they would be happier. That was what I was taught. Everybody else had to play by my beliefs. It was my job to save others, to help them see the right way, to drag them kicking and screaming to the best path.
When I was an elite athlete, my need to be right was initiated through the chastisement of my coaches. It was my duty as a knowledgeable player to ask them to clarify the reason behind each drill. When my coaches failed to answer appropriately, it was my responsibility to let them know that they were wrong.
During my tenure on the Olympic Handball Team, our coaches hurt the team by their lack of knowledge. They overtrained us, creating widespread exhaustion, and most of us suffered symptoms of overtraining like headaches, muscle soreness, and overuse injuries. Instead of talking and sharing information with my coaches, I fought against them, raging, and screaming at their shortcomings. As a result, I was often relegated to the bench.
I was right in everything I said, but did sitting on the bench make me happy?
NO!
I carried this belief into my relationships, fighting when I thought I was right and being adamant about my points. In the end, I won the arguments, but ruined the relationships. Did that make me happy?
It took me 25 years to understand that being right did not lead to happiness. Here are three points that allowed me to surrender the need to be right:
Needing to be right comes from an underlying cause of insecurity. When others must adhere to  your way, then you don't have enough confidence to believe that your way is right for you, and that others may have a different path that works for them.
Confidence comes from a depth of self-love that has no need of validation so there is no reason to argue, push, or resist the beliefs of others.
Happiness arrives when you understand the difference between being right and getting what you really desire.
The next time you enter a conflict, take a moment to determine what your stance is. Are you fighting to be right or are you being persuasive while listening to others? Remember that being right does not always lead to happiness.